T

he Perfect
Central Location
With Zion Mountain Ranch as your base you can unpack your gear for several days and venture out in all directions.
Google and the rest of the search engines can't seem to make up their mind on where we are. ( or maybe they're jealous of our amazing location. ) The most reliable way to locate us via GPS is with the following coordinates: N 37° 14.811' W 112°48.207'
The resort sits at 6000 feet and is located on State Highway 9 just three minutes from the East entrance of Zion National Park.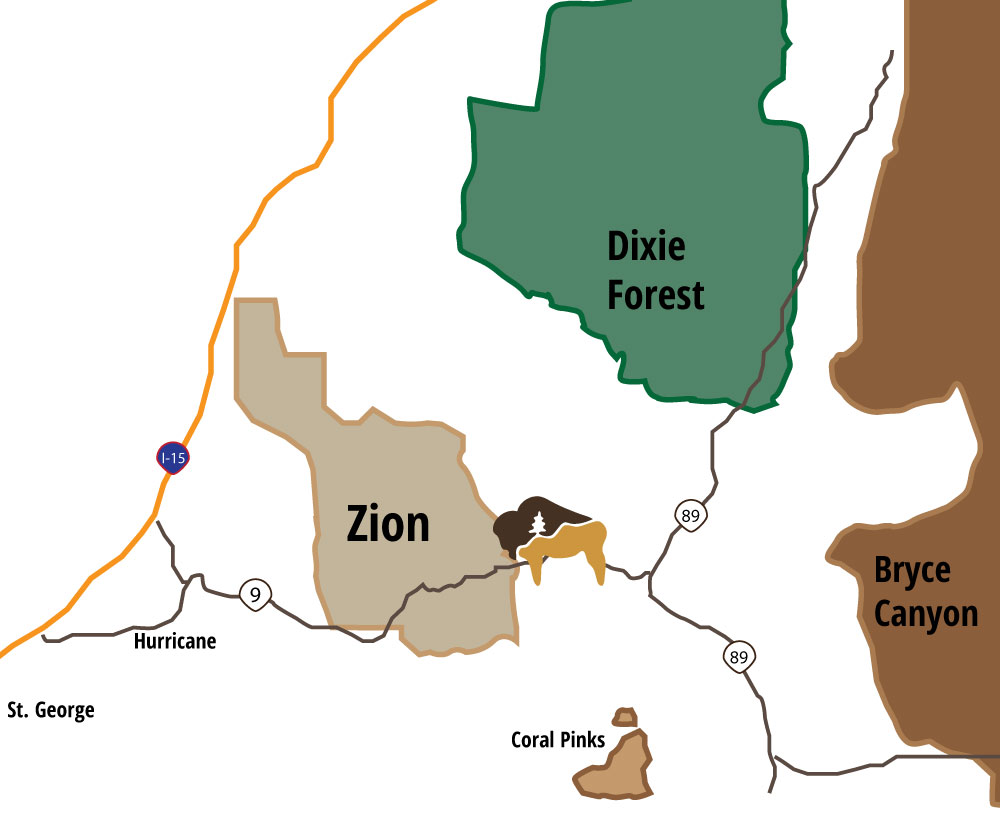 ---
Driving directions:
There are two major thoroughfares from which you can gain access to Zion Mountain Ranch. All roads to the resort are beautifully paved and year-round accessible. Zion Mountain Ranch sits at 6,000 feet in elevation (1828 meters).
West Side : Interstate 15 (I-15)
From South: If you are coming from the south on I-15 ( Las Vegas / St. George) – go past St. George (6 miles) to highway #9 turn-off. This is a scenic highway that goes through Zion National Park and connects with highway 89 on the east side of the park. Zion Mountain Ranch is on this highway-9 just outside the east gate of Zion National Park . As you leave I-15 and turn on to highway-9 you will pass through the town of Hurricane (pronounced Her-ih-cun by the locals). In Hurricane highway-9 will curve to the left (north – follow signs to Zion ) and goes through the town of Laverkin (ignore signs that lead south to Kanab / Grand Canyon ). In the center of the town of Laverkin highway 9 veers to the right (follow signs) to continue on highway-9. You will rise in elevation on-top of a plateau and follow highway-9 (going east) through the towns of Virgin, Rockville and Springdale . Springdale is at the west gate of Zion National Park . Go into the park and follow highway-9 (12 miles – 19 kilometers) to the east gate of the park. When you come out of the east gate you will see a Native American Cultural Center on your right and our Trading Post and fuel station on your left. Our cabins and restaurant are 2.5 miles past this point – on your right. Remember that we have thousands of acres for you to enjoy and the views are spectacular. Continuing on highway-9 you'll come to a large meadow where our buffalo roam. Just past the meadow turn right and pull up to our reservation desk. From I-15 to Zion Mountain Ranch is approximately 54 miles (87 kilometers).
From North: Coming from the North ( Salt Lake City / Cedar City ) – take exit #27 (highway 17) to Toquerville and then Laverkin and then follow above instructions from Laverkin. From Exit #27 to Zion Mountain Ranch is approximately 48 miles (77 kilometers).
East Side : Highway 89 (SR-89)
From South: Coming from the south you will come to the town of Kanab and go north approximately 17 miles (27 kilometers) to the Mt. Carmel Junction. At the junction turn left (west) on highway-9 and travel 11 miles (17 kilometers) to Zion Mountain Ranch. As you arrive at Zion Mountain Ranch you will see cabins on your right and more cabins on your left (further away on a hillside). On your left you will see our registration center and our restaurant (Cordwood). Pull up to the registration desk.
From North: Coming from Panguitch / Bryce Canyon you will travel down highway 89 to the Mt. Carmel Junction. Follow east-side instructions above from that point.